5 wearables I am loving for February
In lieu of LOVE month, overpriced prix-fixe dinners, hard-to-resist candy in the grocery aisles, and couples acting cute everywhere, I've rounded up my 5 favorite high fashion tech wearables for February. I'm happy to say that wearable tech keeps getting better and better. From classic to glam, to edgy, some of your favorite brands are offering more accessories that are a whole lot "smarter".
Sound interested? Read on!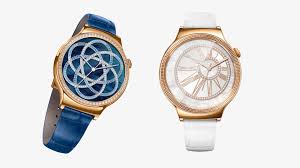 1. Michael Kors Smart Watch
You can't beat the beautiful Michael Kors Smart Watch that seamlessly fuses fashion and technology into one. This design is equipped with multiple animated display faces, fitness tracking, text and email.
2. Ringly Aries Bracelet
You already know my obsession with Ringly's Into the Woods ring. Well, here's another fan favorite of Ringly..their Aries bracelet. If you're not much of a ring wearer, Ringly used the same notification technology and created a bracelet. Chic with a dash of glam, the Aries Bracelet is great for the busy women who doesn't want to skimp out on style.
3. Huawei Smart Watch
The Huawei Smart Watch, inspired by luxury-designer watches, is a disguise master. The classically designed face hosts technology that allows you to read texts, connect your favorite apps, use Google Command, and more. The watch is compatible with both Android and iPhone and has a battery life for up to 2 days. Maybe it's time you rethink your current clunky wearable?
4. Kate Spade Black Scallop Tracker
This one is for the woman that loves to have a little bit of fun and the classic Kate Spade aesthetic. The company recently launched a line of what they call "personal cheerleader" trackers. More of motivational tool and digital planner/journal, this wearable is paired with the Kate Spade app and doesn't use cord charging. This line is perfect for the tech savvy women who wants just a dash of tech in their wardrobe.
5. Simply Vera Wang x Fitbit
Fitbit is on a fashion roll! The company announced they are pairing up with several designers (Public School, Tory Burch, and Simply Vera Wang included) to amp up their "look" exclusively for NYFW. Thank goodness because these designs are perfect for the modern woman. The Simply Vera Wang x Fitibit device that comes in a ID bracelet and chic double wrap bracelet look is launching this October and will be sold solely through Kohl's. Can't wait for October!